A message for any girls interested in Schuyler HS Softball: Team Skills Camp will be this Monday, the 18th, until Thursday, the 21st, from 9-11 AM at the HS softball field by the golf course. See you there!

Back to School Extravaganza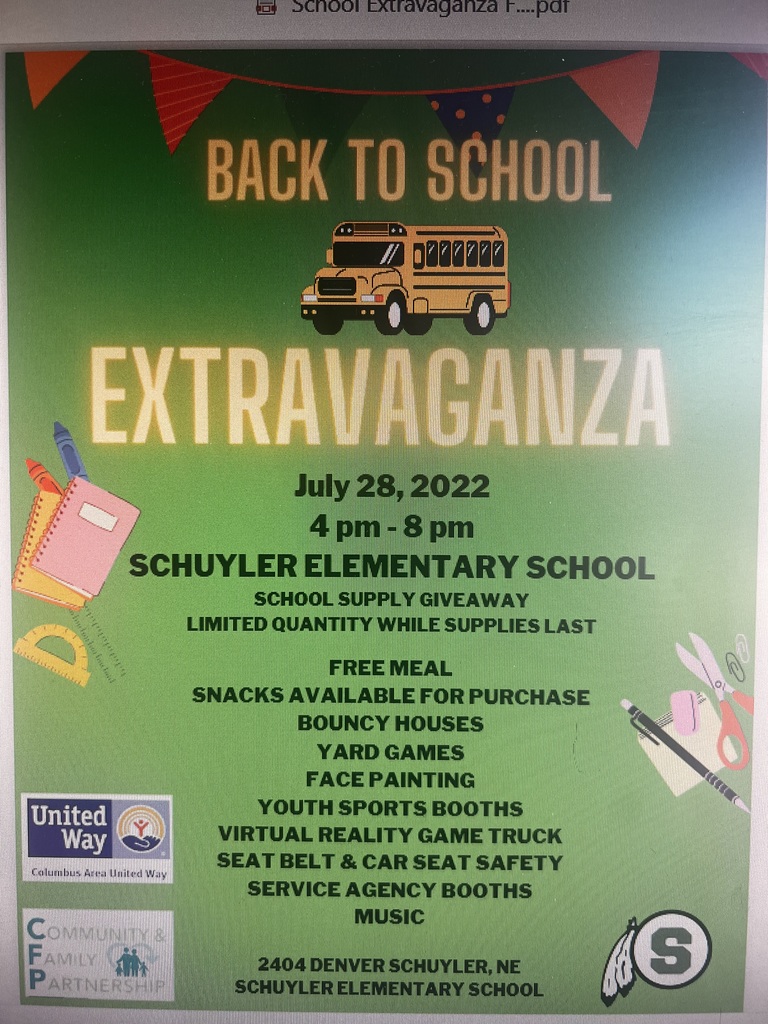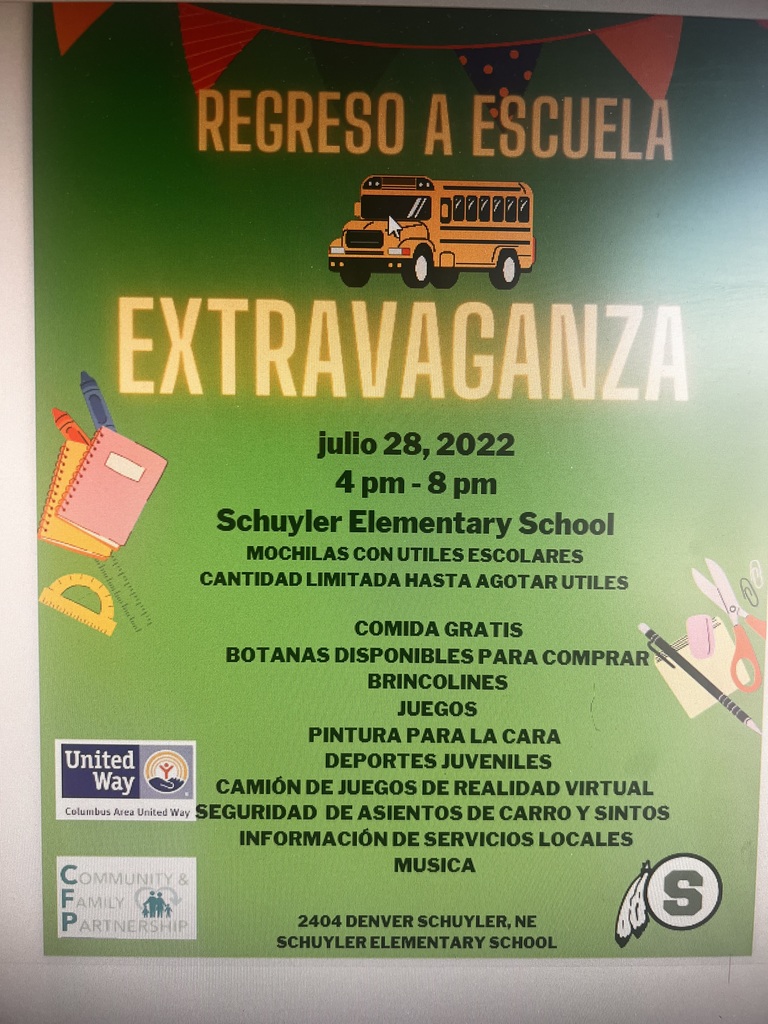 The Circus is coming to town - July 14th @ Schuyler Elementary School

Get your child vaccinated, catch up on adult vaccines, get a Covid-19 vaccine or booster! ALL types of vaccines are available! Tuesday, July 12, 10:00 a.m. - 6:30 p.m. at Schuyler Elementary School.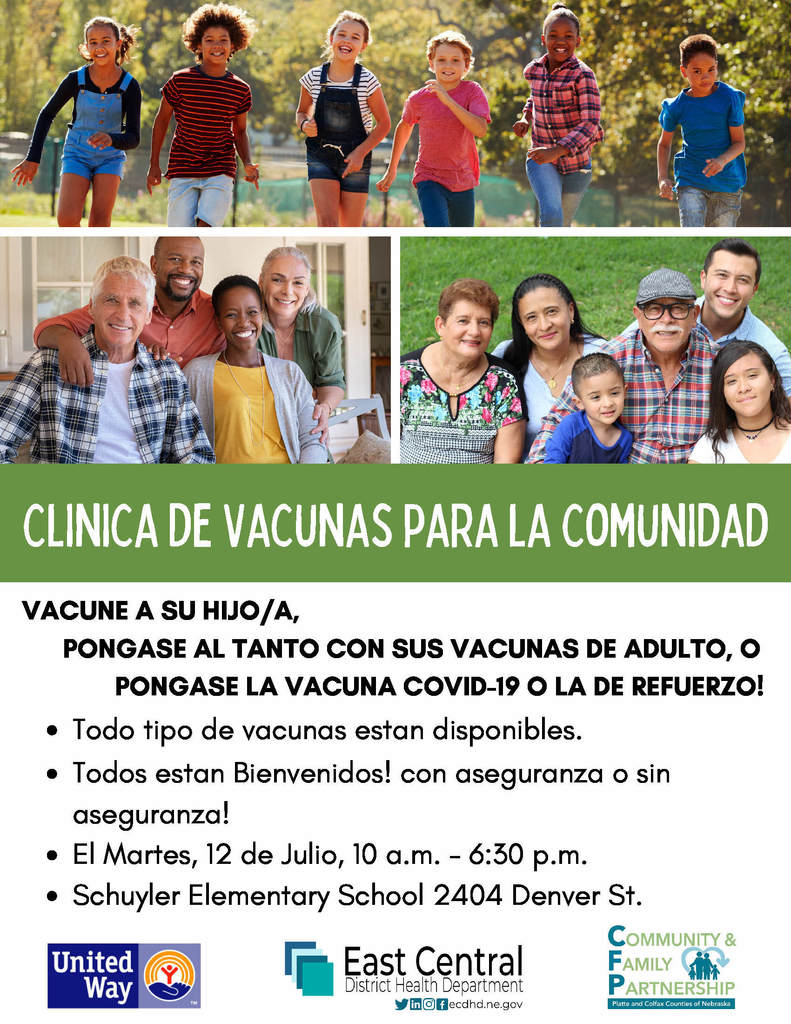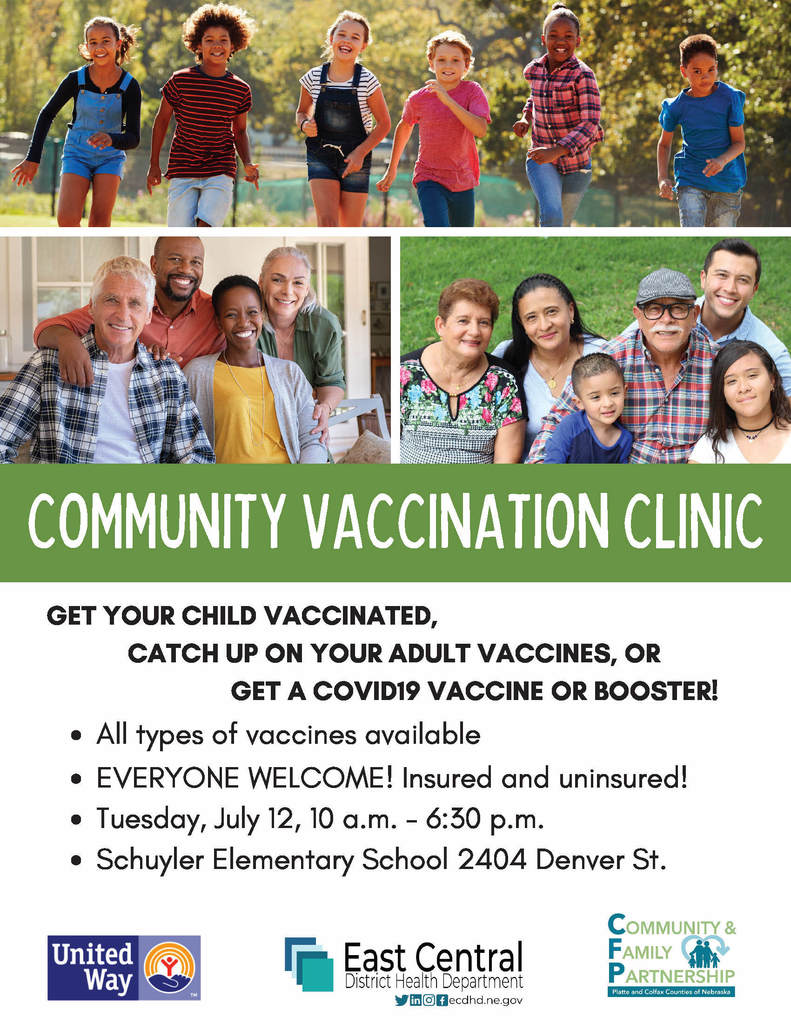 There will not be July Summer School for high school students. There will still be weightlifting at the regularly scheduled times.

Summer food program continues today, July 5, through July 29th. All children 1-18 years old eat for free. Serving at Schuyler middle school from 11-12:30. Enter through the 9th street doors. No grab n go lunch this year you must eat in the cafeteria.

Yoga in the Park! Tuesday, June 21, 6:00 pm. South Park, East of the boys scout cabin.
https://5il.co/1ce6f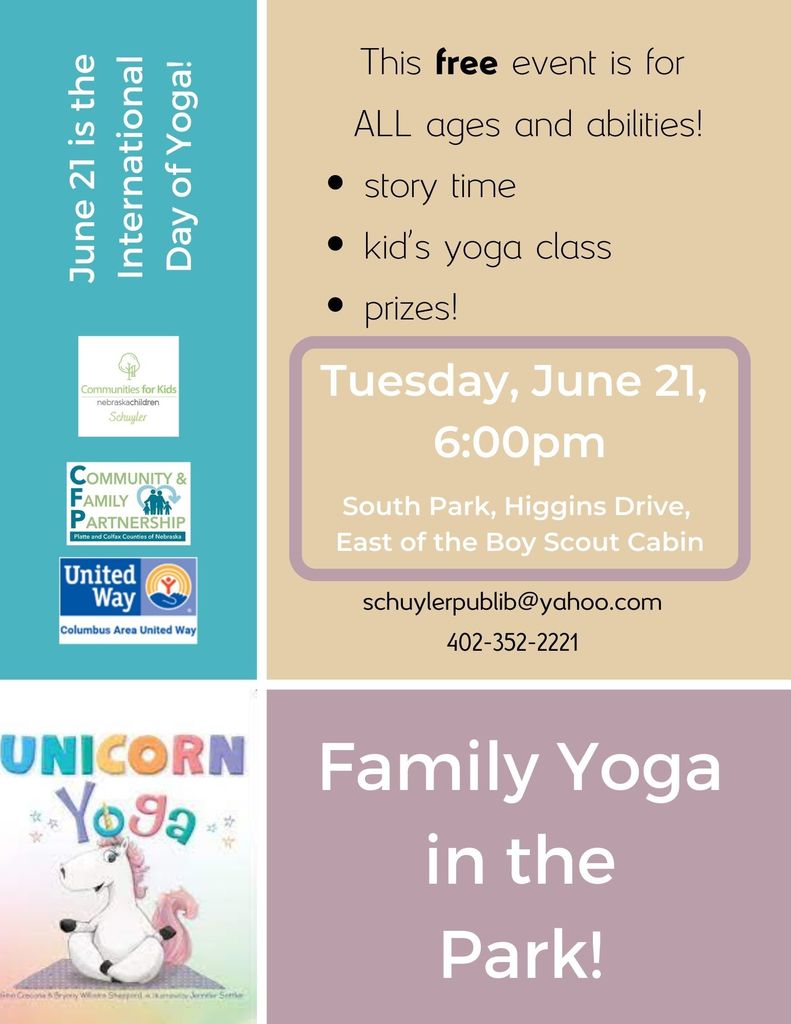 The Summer Kickoff is Friday, June 17th, 1-5pm at the Schuyler Public Library!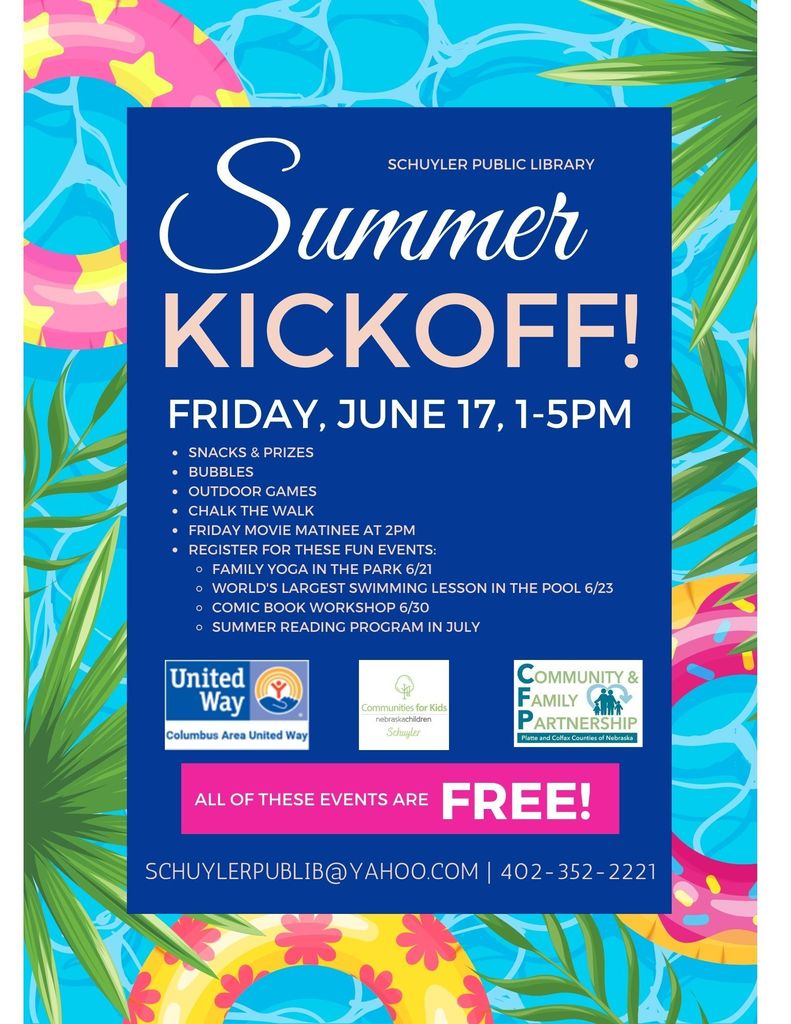 Bike Rodeo Details - Join for some fun and great information!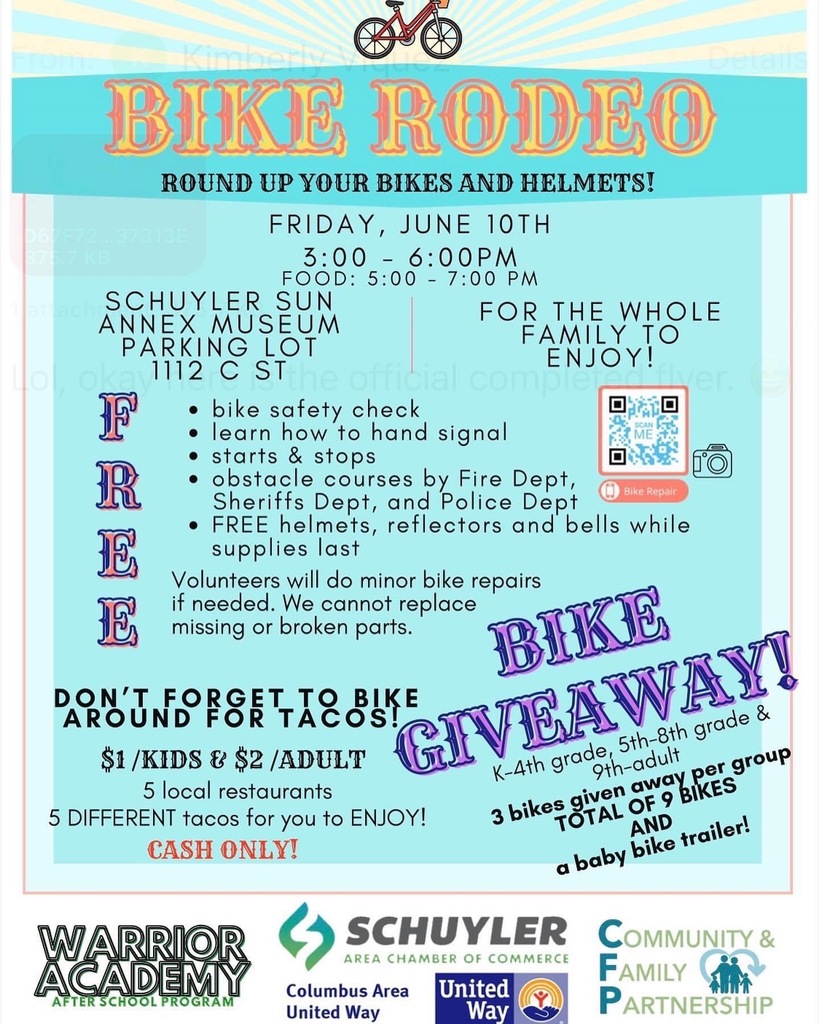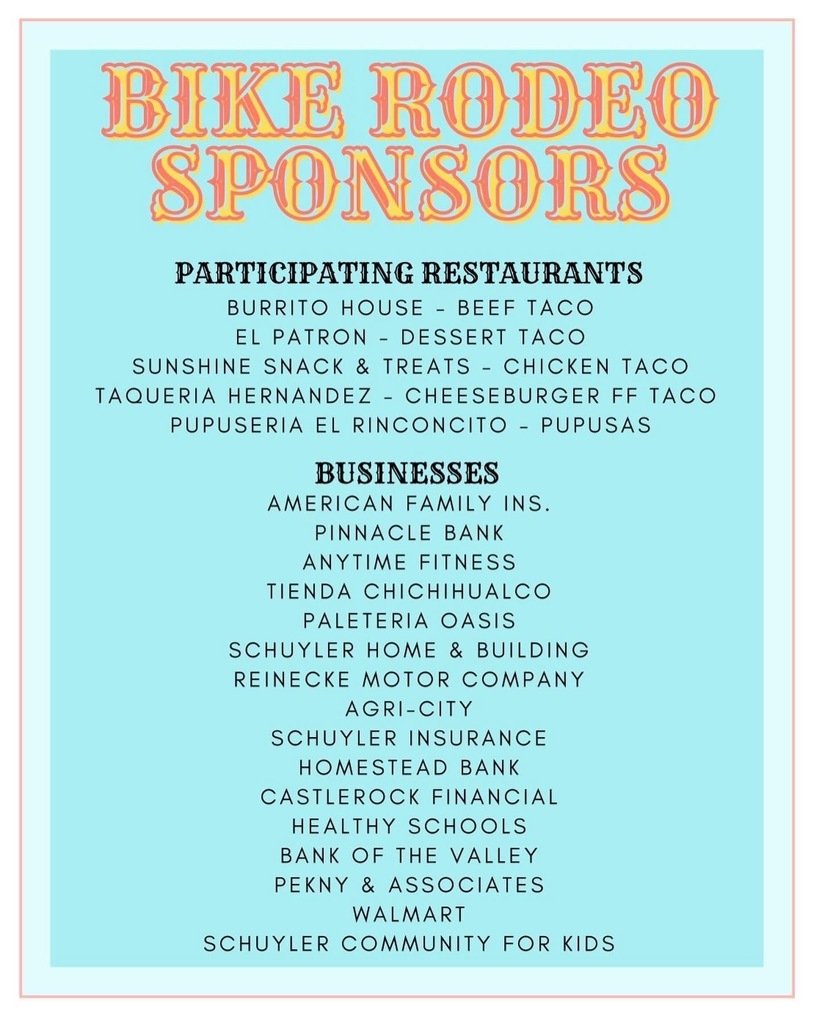 Congrats to Mr. Banahan Assistant Principal of the Year and Mrs. Neesen New Principal of the Year!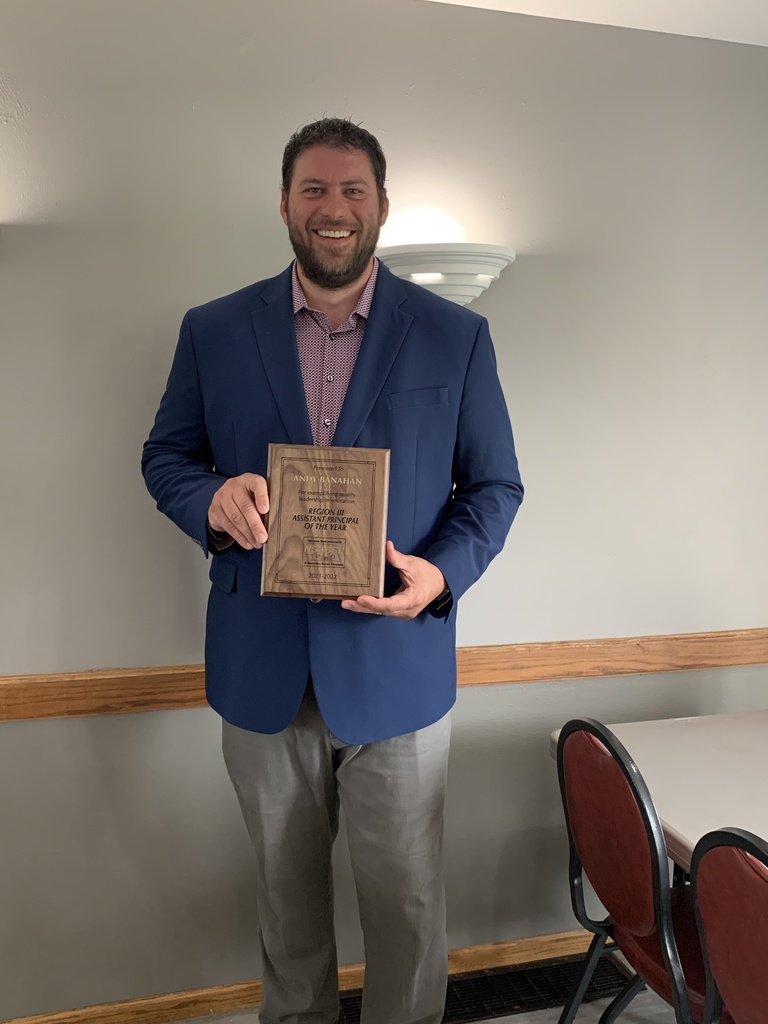 Basketball camp has started today for 3rd - 12th graders still time to join in for more information check the flyer.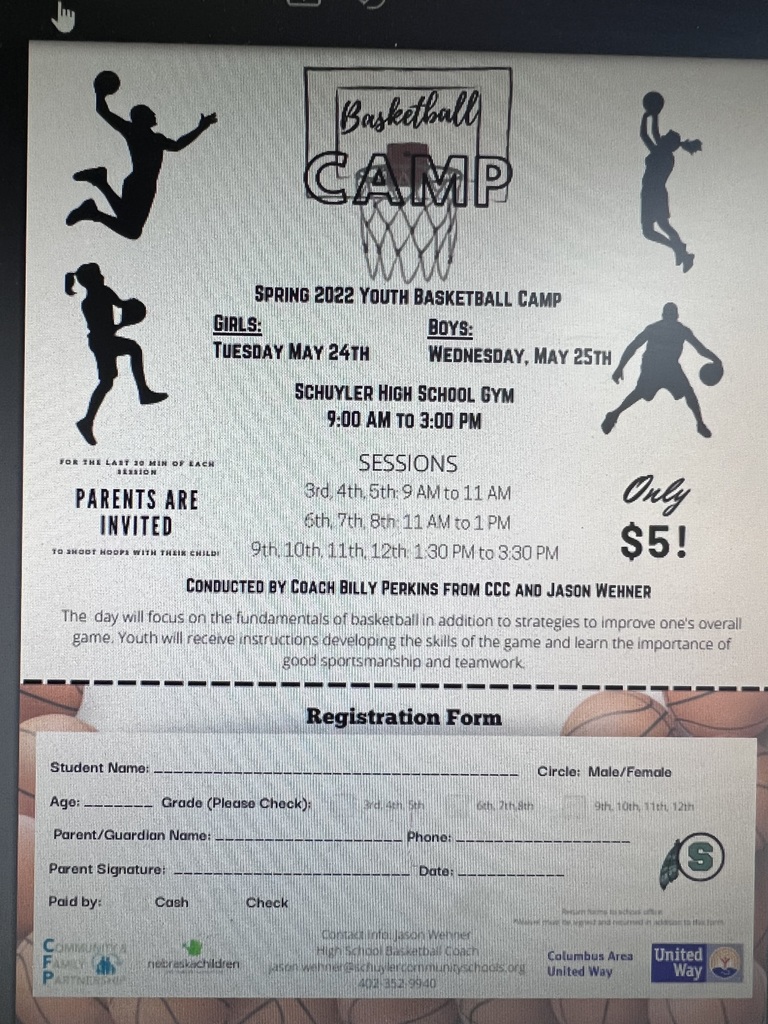 Summer Immunization Clinics: June 7, 10am - 6:30 pm & July 12, 10am - 6:30pm, this is for any kids aged 3-18 yrs. The Clinic will be held at the Schuyler Elementary building.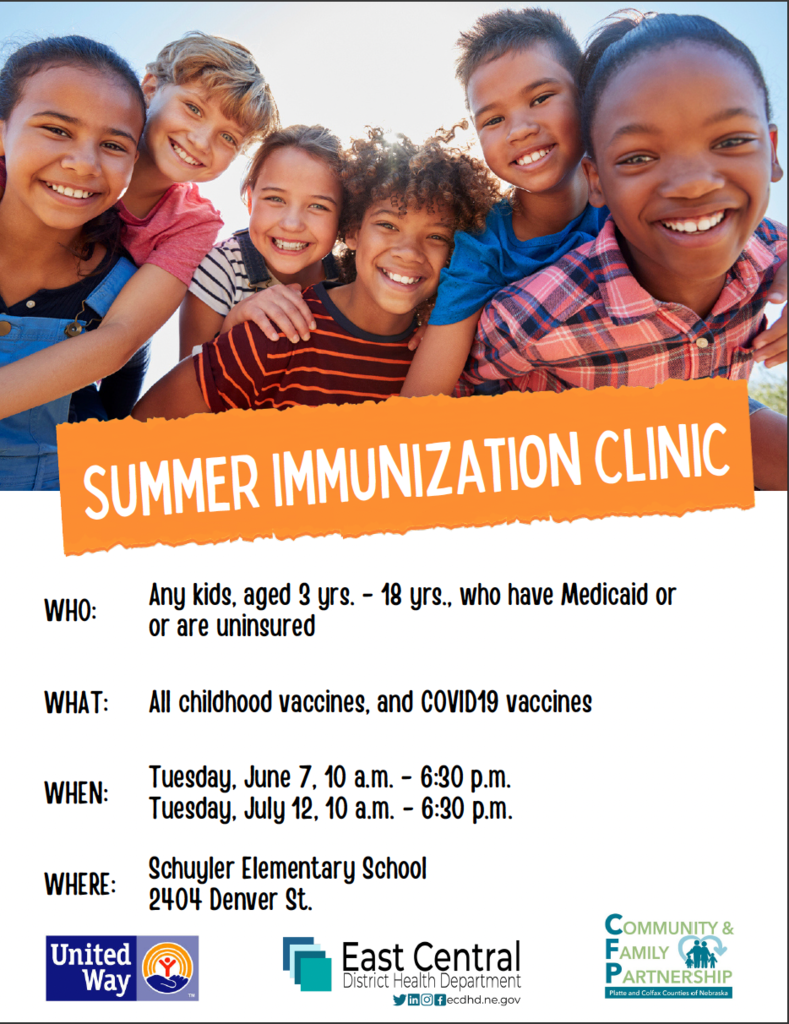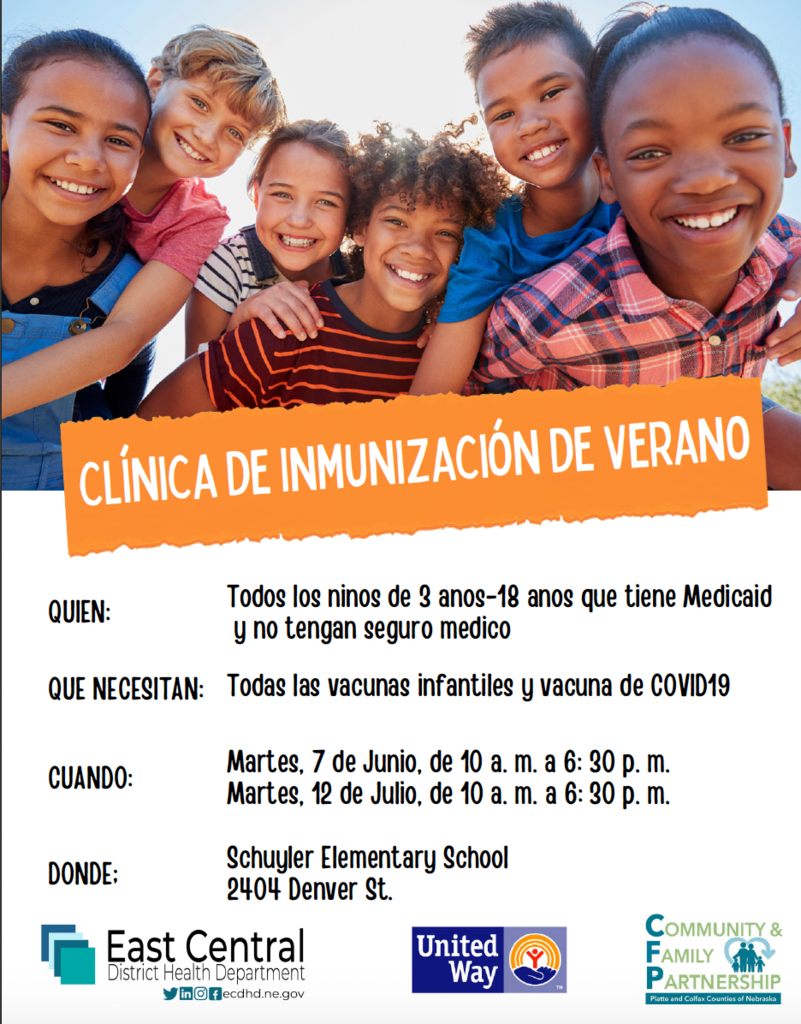 The after school program is offering June Summer Camp for kindergarten through 8th grade students from June 6th - 24th from 8am - 12p there will also be a STEM camp from 12:45p - 3:45p. If you are wanting to sign up your child for any of these camps you can use these links. English:
https://forms.gle/nyHwudsfPwrXx9J37
/ Spanish:
https://forms.gle/mNifeEhRbN2GuKfb6


A quick message from the utility department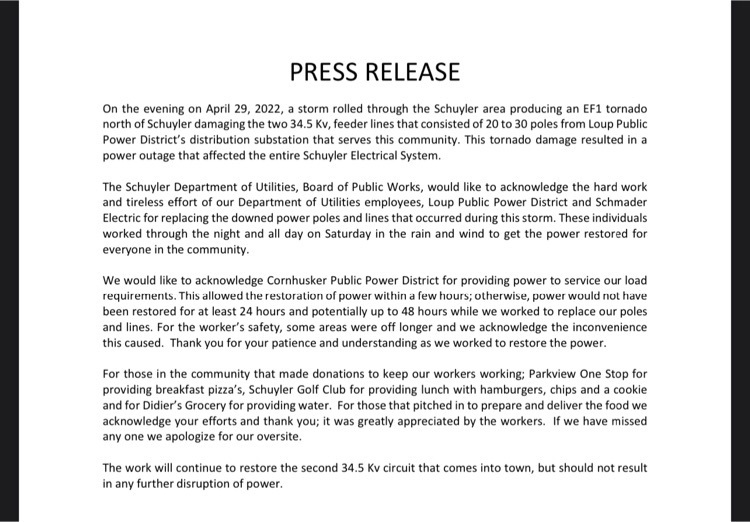 Parents, Please don't forget the last day to order Field Day Tshirts is Friday!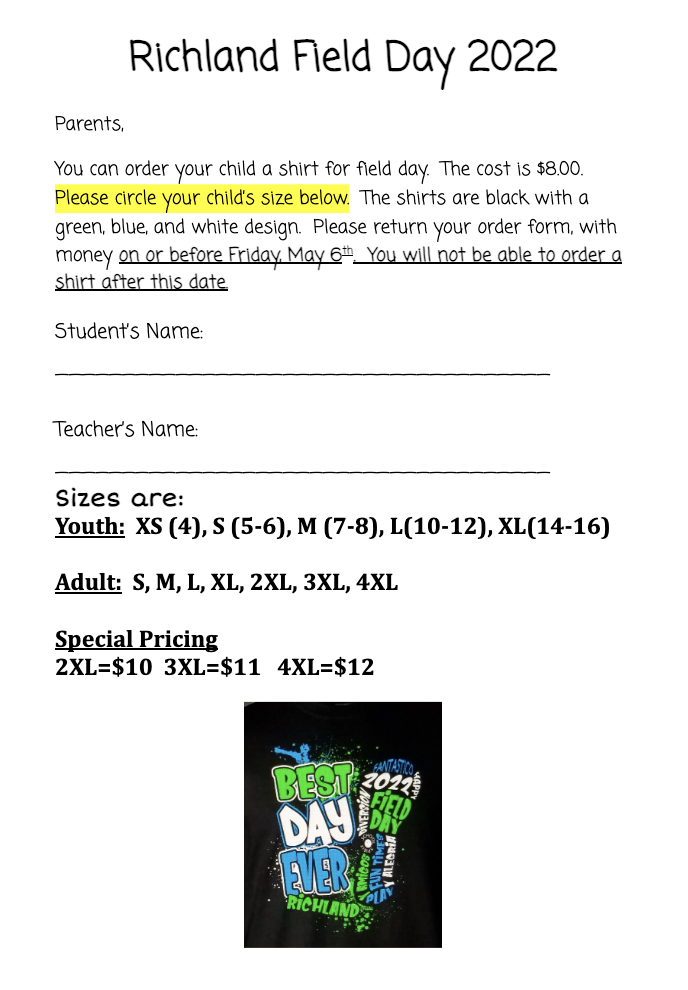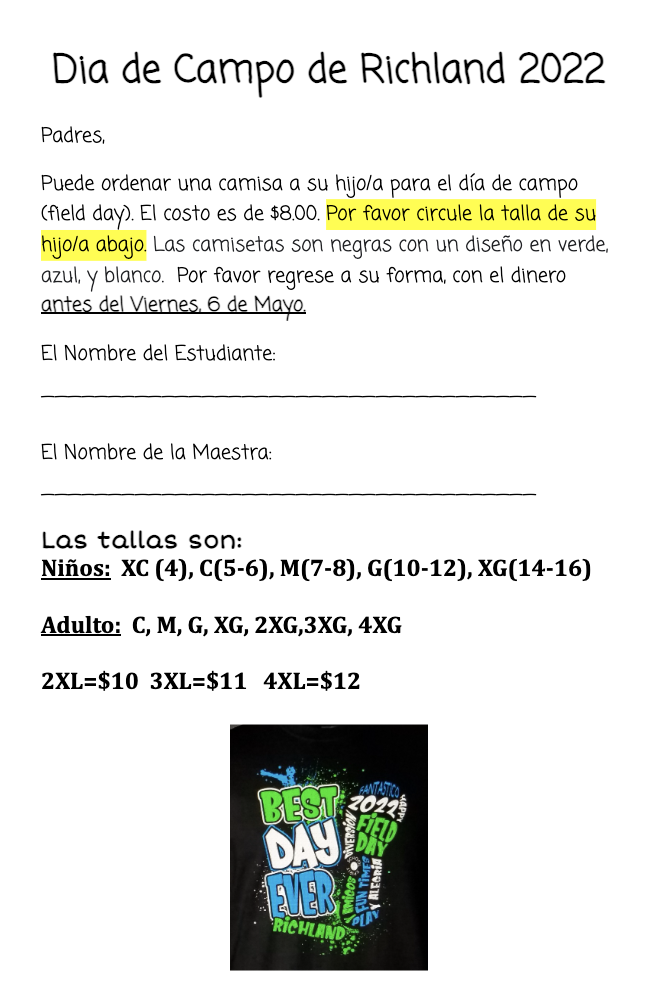 The mobile food pantry is Thursday, May 12th from 4:00-5:30 pm at the Oak Ballroom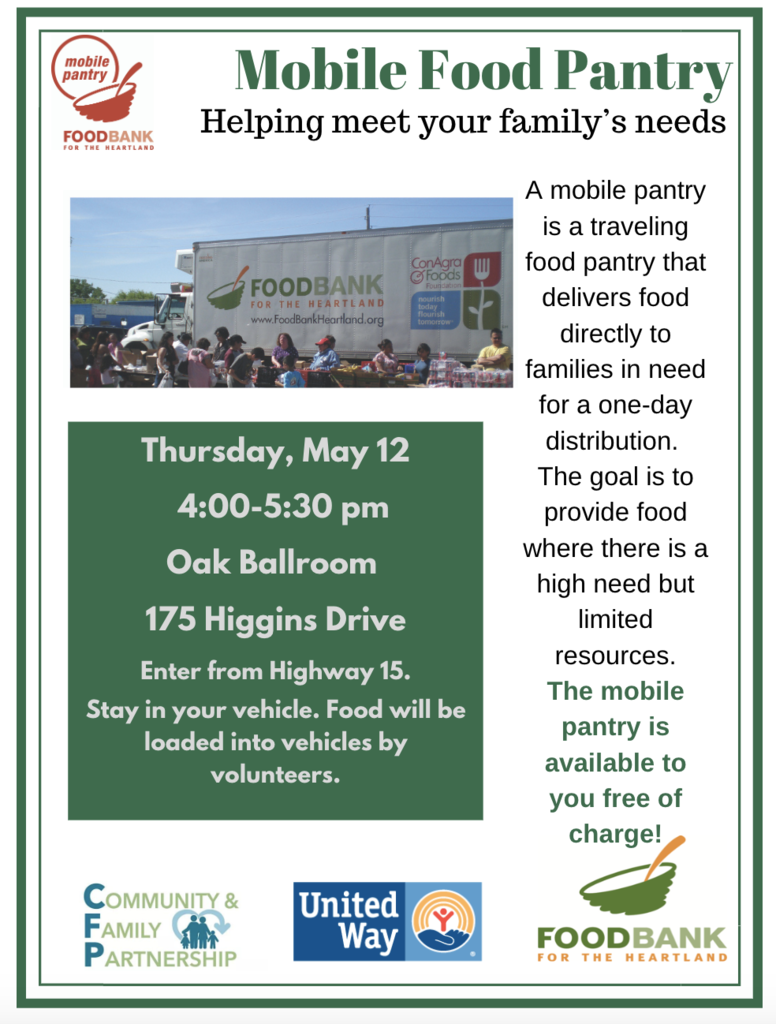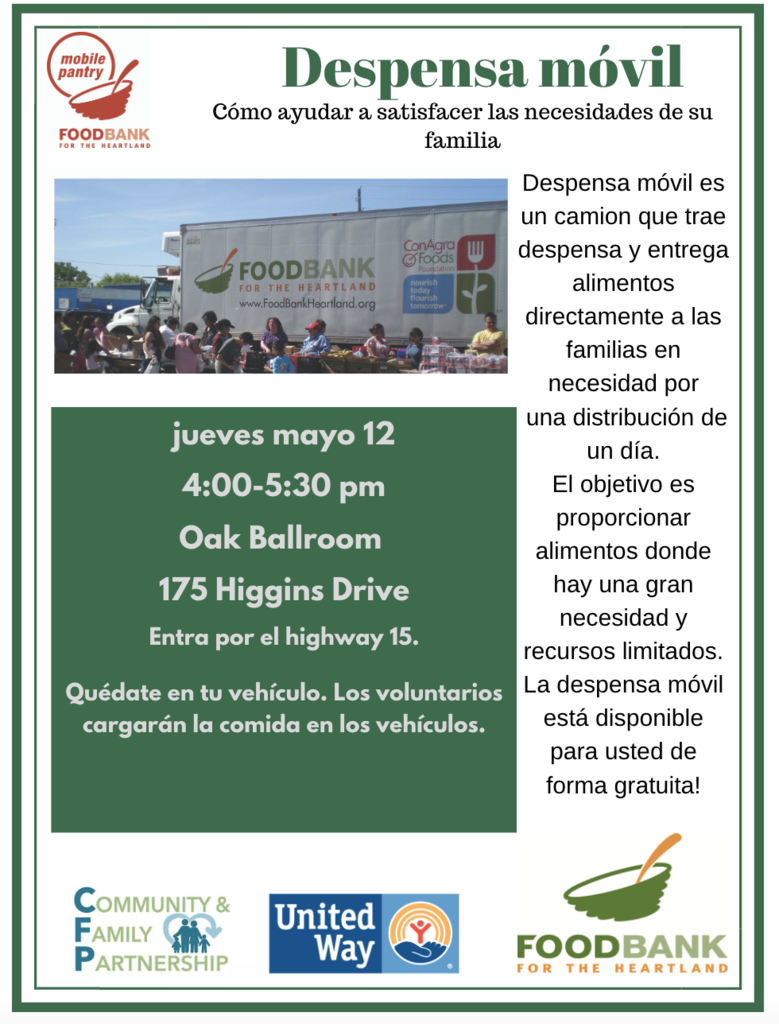 A message from the city of Schuyler officials: Multiple power pole lines are snapped… No power for Schuyler til approx noon Saturday. Please stay off the streets. Plan accordingly. #staysafeeveryone

SCHS Presents ANASTASIA April 29th @ 7pm, April 30th @ 7pm and May 1st @ 1pm in the Performing Arts Auditorium at SCHS.