Schuyler Community Schools - General Information 2021-2022 - This is a link to view general info: i.e - start dates, bus schedules, etc. The same letter is being mailed home today:
https://5il.co/w262


The Schuyler Early Child Care & Education Coalition is offering the Safe With You training for Spanish speakers on Saturday, July 17th at the Schuyler Public Library. Cost: $10 Lunch Provided Safe With You is a Nebraska Department of Education Early Childhood Training Center and Department of Health and Human Services program. It is designed to meet the health, safety, and developmental needs of children and includes information on sudden infant death syndrome, shaken baby syndrome and child abuse and neglect. This training is provided in Spanish and is for anyone who is responsible for the care of young children; parents, grandparents, teens, and those providing care for children in their home. Questions: Cindy Corral 402-615-3614
cearco8@hotmail.com
(habla español) Claudia Lanuza 402-276-9644
claudia.lanuza@chihealth.com
(habla español) Kim Parsons 402-615-2685
eccc.kparsons@gmail.com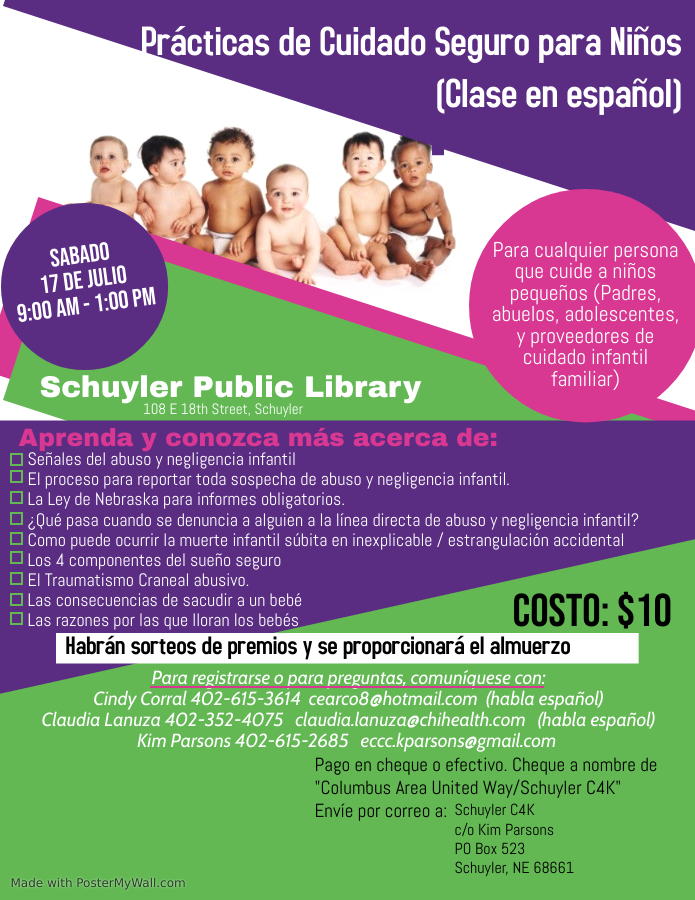 Reminder: Any girl who wants to play volleyball in grades 7-12, we will have a free volleyball camp at the high school each day this week. Grades 9-12 will have camp from 8AM-10AM and grades 7 and 8 will have camp from 10:15 AM-12PM.

Reminder: Mobile food pantry tomorrow, July 8 from 4:00-5:30 at the Oak Ballroom.
SMS is currently accepting applications for Para positions in both the English Language Learner Program and in the Special Education program. You can apply online, contact the district office, or middle school office for an application.

Sat. August 7, 2021 SCS Foundation Golf Scramble. Have a day of Fun, Food, Golf and Prizes while supporting the Schuyler Community Schools Foundation and the Schuyler Community! Looking forward to a great day!!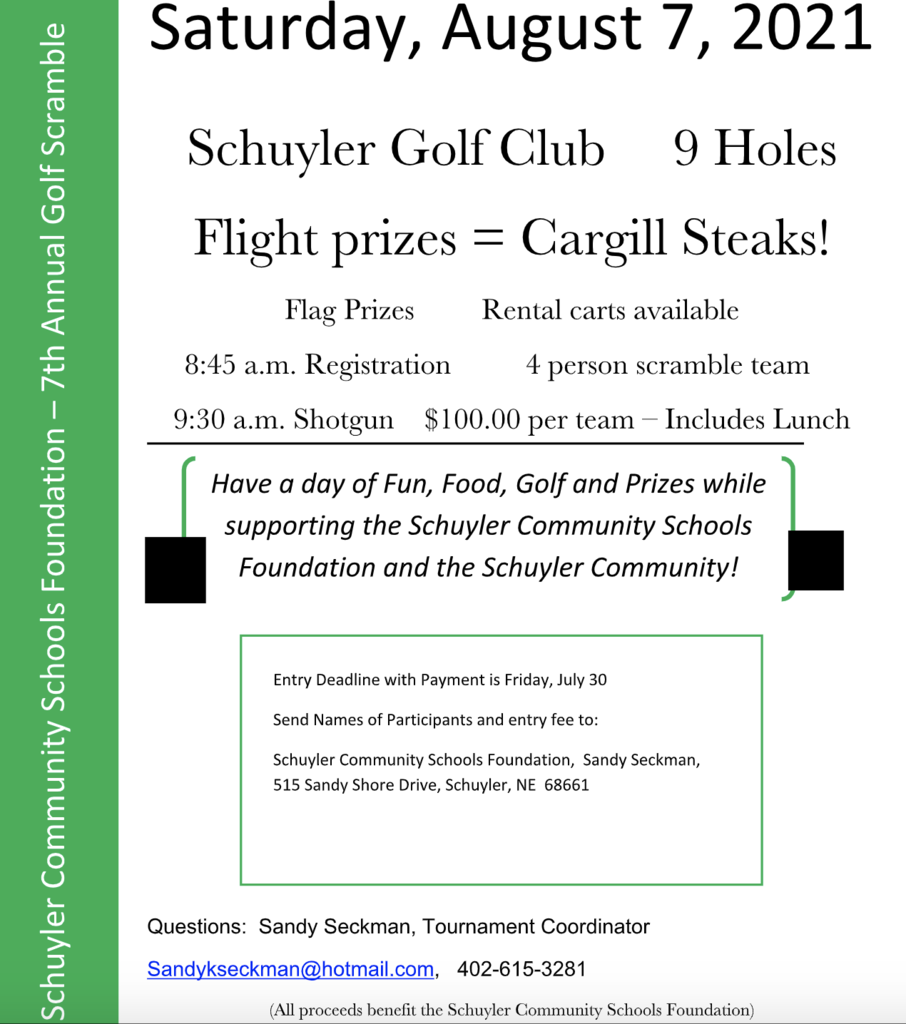 Youth Golf Camp - June 29 - July1st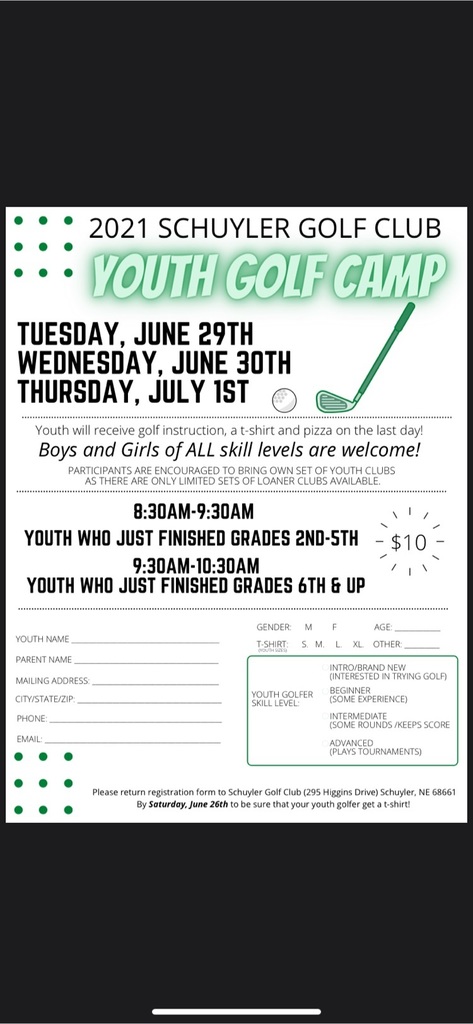 Columbus United Way is hiring for Full Service Community School Coordinator. More info @
https://5il.co/tx3w


Reminder: Mobile Food Pantry is today at the Oak Ballroom starting at 4pm.

June Summer Camp: Please pick up your child/ren at the 10th street entrance of the middle school at 12pm. All students need to be picked up prior to getting lunch. Thank you.

Starting today grab n go meals are available at Schuyler middle school serving from 11-12:30pm. Pick up at the 9th street doors. Free for ages 1-18.

If you signed up for June Summer Camp we will be starting Tuesday, June 1st-18th from 8a-12p at the Schuyler Middle School. If you have not registered you may register at the Middle School anytime from 8a-3p

2021 Boys Basketball Camp will be held at SCHS New Gym Beginning June 1st. High school from 9-11am, Middle School - 1-2:30 pm and 1st -5th Grade 2:45-3:45 pm. Middle School camp is for students entering 6th - 8th grade and elementary is students entering 1st-5th grades.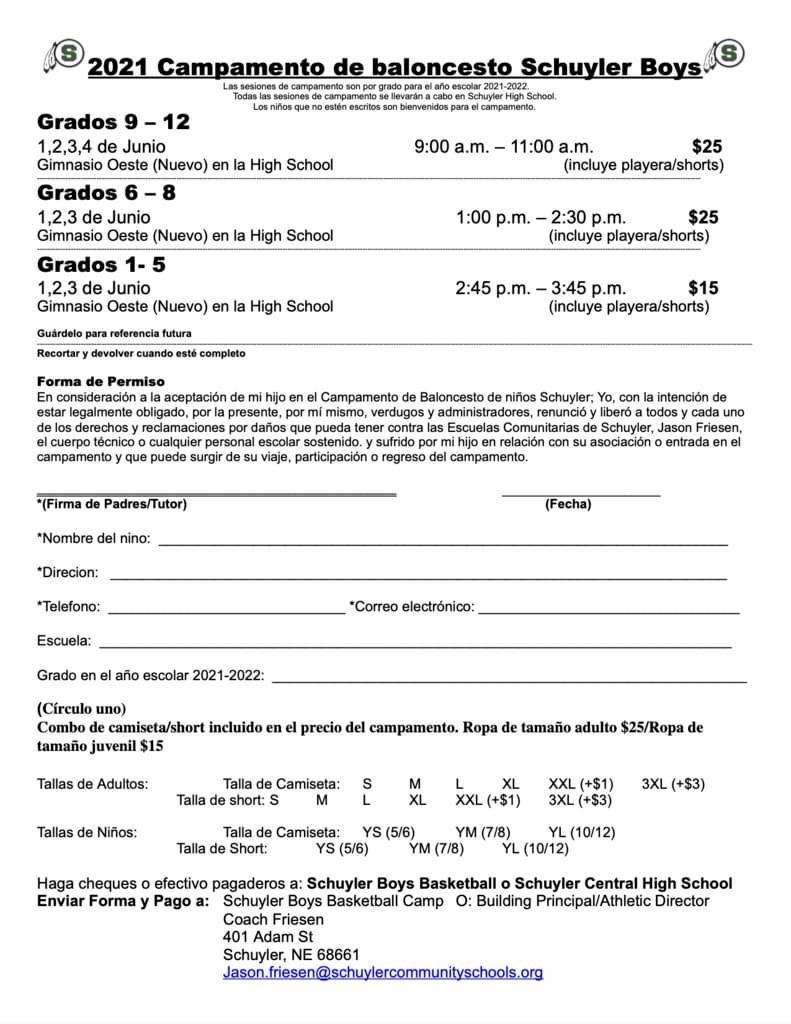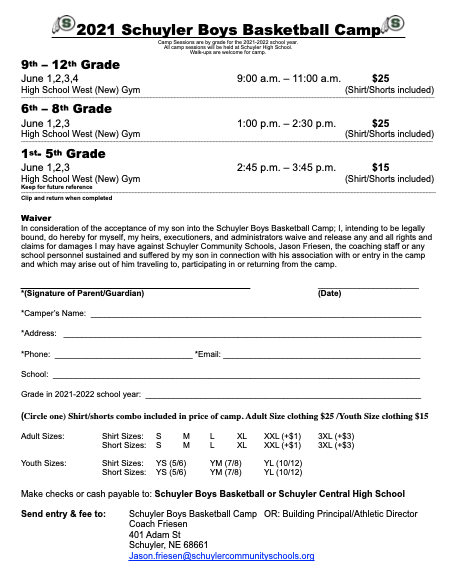 If your child will be a 6th grade student this Fall at SMS and would like a tour of the building Mr. Zavadil will be guiding tours at 10am and 3:30pm on Friday May 28th. If you are interested please meet Mr. Zavadil at the 10th street Middle School doors at those times.

Reminder today is a normal dismissal time at 3:30 students will be dismissed tomorrow Thursday, May 20 at 1:30 please plan accordingly

Schuyler Community Schools is currently looking for an additional two teachers for grades K-5 July summer school. Please call 402-352-3527 ext 803 for Dr. Gibbons.
To honor student achievement, you are invited to attend SCHS Academic Awards Night on Monday, May 10 at 7pm. The Fine Arts and Athletics Awards Night is on Tuesday, May 11 at 6pm and 7pm respectively. These will take place in the Performing Arts Auditorium. Masks are required.

Schuyler Community Schools is hiring for a full time Maintenance/Housekeeping position. Hours are approximately 3pm -11:30pm. Competitive salary and benefits. Stop by the District office for an application or Call Ron Mundil @ 352-3527 or 402-615-1820.

Schuyler Community Schools is now hiring for custodial day and evening shifts. Please stop by the district office and pick up an application. Also looking for summer part time kitchen and custodial positions as well.